Seventh grade volleyball team improves immensely throughout the season
At the start of the 7th grade volleyball season, 1 or 2 girls at most could get their serves over the net, and by the end of the season, that number increased a great deal. The Allstar servers on this team were Alethea Svette, Addison Martin, Lena Tucker, Melina Humphrey, Isletta Angel, and Lauren Vasko.
"Volleyball was so fun this year, I accomplished getting my overhand serve. I got so close to the girls that I barely knew it was a great experience" Izzy Angel said.
"I got to know people so well that I probably would never have been friends with," said Isabella Fransko.
This volleyball season just ended with a spectacular finish. The 7th grade team won 3 out of 3 games in the tournament against Berkshire, Geneva and Fairport!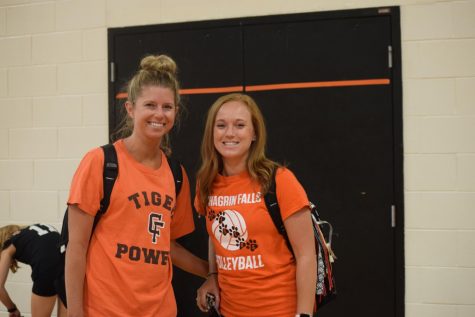 In conclusion, they would like to thank the middle school volleyball coaches, Katie Metzinger and Kristi Leffler for everything they have done to help the teams improve. This is the 7th graders first year playing, and Coach Metzinger has improved the girls drastically.