Award winning graphic novelist visits CFMS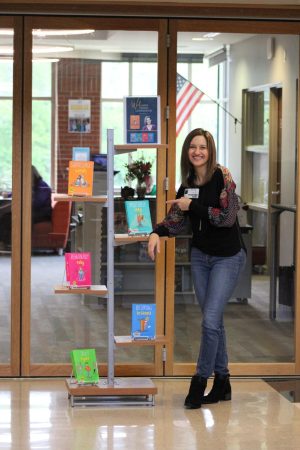 Award-winning graphic novelist Terri Libenson made an appearance at CFMS on Monday May 22 to promote her new book, Surprisingly Sarah, and inspire others to embrace their creativity.
During the whole-school assembly, Libenson discussed her journey as a comic strip illustrator, gradually working her way towards writing and publishing her graphic novel series. She showed everyone a panel from Pajama Diaries, which ended up winning the highest award for comics. Before Libenson published comics and books, she designed greeting cards. 
When she is working, she describes her environment as somewhere comfortable and quiet, somewhere where she can really express herself.
Libenson discussed her inspiration for the Emmie and Friends series, which includes Invisible Emmie, Positively Izzy, Just Jaime, Becoming Brianna, Truly Tyler, and Remarkably Ruby. Her own experiences as a mother of daughters inspired her series; other details came from her memories of middle school and the emotions she felt back then. Libenson advises aspiring authors and illustrators to spend a lot of their time reading, writing, and expressing their creativity. She has her own website with lessons and tools to help people become better writers; you can find these tools at terrilibenson.com.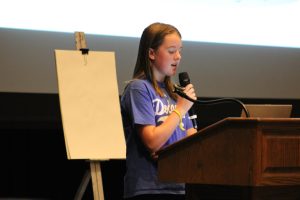 At the end of the assembly, she called two students up to the stage to help draw two different characters from Surprisingly Sarah, the book she came to promote. 
Not only were the two students on stage engaged, but the whole audience was also hooked. Seventh-grader Morgan Graves said, "I really liked her books, they are really easy to relate to, you can relate to the characters. She is an award-winning author which was super cool to have at the school!"
Libenson's publisher selected CFMS as a school to stop by on the promotion tour, and she was thrilled to visit. "Chagrin is such an amazing district and is one of my favorite places to be," said Libenson. 
Terri Libenson was raised in Kingston, Pennsylvania. She went to Washington University in St. Louis while studying art and illustration. She started off with comics since comics have both writing and art, and she was very drawn to the writing part at a young age.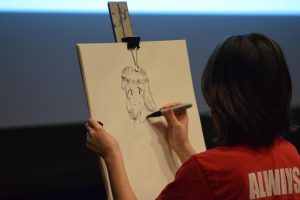 Being able to be given advice from such an amazing and talented author was definitely a one-of-a-kind experience. CFMS thanks Terri Libenson for taking time out of her day to show us how to be just as amazing as her.