School counselor and Spanish teacher honored with a prestigious award
Ms. Brooke Campbell and Mr. Kyle Patterson were both nominated by Mrs. Laila Discenza for Rotary Club Teacher of the Year. These two were both recognized for their hard work May 2, 2023 during the Rotary breakfast.
Patterson is the CFMS counselor, he has been in this position at CFMS for almost 10 years now. Patterson always displays constant effort and gratitude in everything he does and lights up every room he walks into. Whether in his office or roaming the halls, Patterson is always there when you need him. When sitting one on one with him, you automatically feel a sense of security and calmness around you, he is able to create a safe space no matter the occasion.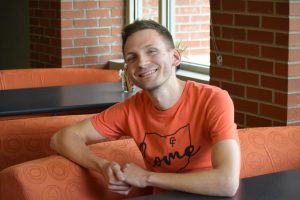 Patterson is welcoming and makes everyone feel like they belong. According to two students, Katie Sirianni and Siena Farah, "Mr. Patterson is a go-to therapist during study hall. He is very kind and helpful! Every school needs a Mr. Patterson." Having someone like Patterson who will sit down and listen to how you feel or listen to how your day was is always a good feeling. 
While having a one-on-one Patterson stated, "The most enjoyable part of my job is having the opportunity to get to know and connect with so many students each day and to try and be a resource in as many ways as I can for them".
Campbell, who was the runner-up, is the seventh-grade Spanish teacher and has been working in this position for six years now. Campbell repeatedly shows courage and consideration each day. Campbell not only exhibits empathy towards her students but she also sets out a fantastic role model for everyone. Apart from the fact that she teaches young teens a new language and perspective, she also helps them realize their self-worth, either with one on one conversations or a class pep talk at the beginning of each lesson. Having someone that you can trust and rely on and someone who can always be there for you like Campbell really shows how pure her heart is. 
One of her current students, Zadie Stepnowsky told us from her perspective on Campbell's teaching, "Ms. Campbell is such an amazing and supportive teacher. She makes class so fun and we can always come to her if we need anything."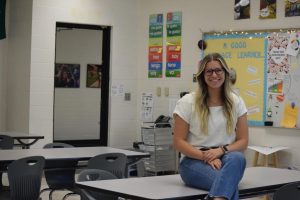 While reflecting on her nomination, Campbell told us,  "Being a teacher is such a fun and fulfilling occupation. Every day I am able to share my passion for learning with my students while having the opportunity to get to know such amazing individuals. Being in this role, I feel a great sense of joy being able to be a part of the students' journey as they navigate life as middle schoolers. I hope to be seen as an empowering role model and an engaging teacher."
Discenza shared her reasoning as to why Patterson was one of her top choices for teacher of the year, "Mr. Patterson has impacted hundreds of students, staff, and parents during his time as a counselor. His strong values to educate the whole child and commitment to middle-level education are quite visible, students feel valued and encouraged. Every student at CFMS knows they have a trusted adult in Mr. Patterson who is there for them every day in every way."
In her nomination write-up for Ms. Campbell, Discenza said "Brooke also has the maturity of a seasoned teacher. She depicts care and concern and uses solid best-practice strategies. Over the years she has become even stronger in her content area and provides high-quality instruction day in and day out. Her level of differentiation to meet all needs in her class are derived from educational knowledge and solid lesson planning and articulation. Her units are highly engaging allowing for interaction with material while setting the tone for positive classroom behaviors. Ms. Campbell works with each student based on their needs while motivating and providing multiple assessments. It is quite impressive to observe her alignment for interventions and feedback."
Congratulations to both of them for constantly displaying maximum effort no matter the situation and always making sure everyone feels like they belong at CFMS. Our school wouldn't be the same without you guys.