Wellness Coach makes impact during first year on staff
Miss Lacey Caparanis was hired as the Wellness Coach for Chagrin Falls Middle School and High School at the start of the 2022-2023 school year. She is a mental health professional and helps students with their mental health, stressors, or any other extra support they need. 
Caparanis said that she has wanted to be a therapist from an early age. "I chose to get into the mental health field because I have always had people confide in me. Even back to when I was in the 6th grade, I remember being the 'keeper of secrets' and the person to process with amongst my friends. I decided then that I wanted to be a therapist, but I wasn't sure what it was called at the time," said Caparanis.  
The position of Wellness Coach is new to Chagrin Falls District, according to Jennifer Bencko, Director of Pupil Services. "Miss C has helped further define the role and develop programming that is already impacting students and staff in a positive way," said Bencko.
Caparanis has already built relationships with staff members and students alike. "Ms. Caparanis is incredibly relatable and helpful. She is very easy to talk to and has great experience as a mental health professional working with students. I enjoy her balance of a great sense of humor and genuine care and compassion for others. Stop in her office and introduce yourself to her and you will see for yourself," said Kyle Patterson, middle school counselor. 
Caparanis is originally from the Youngstown area in Lordstown, Ohio. She attended undergraduate school at Marietta College and graduate school at The Ohio State University.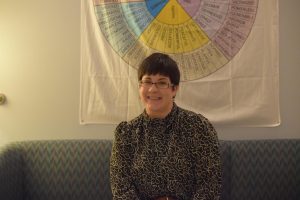 Before coming to Chagrin Falls, Caparanis worked as an elementary school therapist in Lakewood. She has also worked in a substance abuse treatment program for people leaving the prison system and as a career advisor at Kent State. 
In her spare time, Caparanis enjoys watching movies and old, corny TV shows, reading, and spending time with friends. She also fosters cats and has raised over 35 of them.