AIMS Assembly; the break we all needed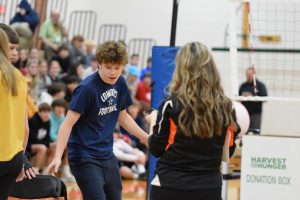 The fifth annual Attributes Influencing Mastery and Success (AIMS) assembly was held on Thursday, April 27.
After the cheerleaders kicked off the assembly, Mrs. Laila Discenza congratulated everyone on how hard they had worked so far this year and celebrated the end of state testing. Discenza highlighted students from various groups to honor the fine arts, academics, overall effort, service leadership, teamwork, athletics, and clubs. 
Top donors for Harvest for Hunger were announced by Mrs. Kathleen Aranavage, and the group celebrated with a few photos featuring the fire marshalls in front of the Chagrin Falls fire truck. 
After the introduction and celebration of service, students from various groups were invited to compete in musical chairs, a relay race, and a donut on a string challenge. 
"The entire assembly was very fun, it was great to have the break after all of the testing in the past weeks,' said seventh-grade student Siena Farah, who participated in the relay race.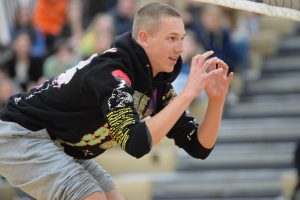 We moved on to a volleyball tournament, beginning with Ms. Campbell vs Mrs. Moore's advisory classes competing. After a close match, Moore's class moved on to the next round against the teacher team. After lots of effort from both teams, the teacher team won.
Students on both the winning and losing teams enjoyed playing in front of the student body:  "The assembly was fun, all the activities we did were competitive but no hard feelings towards anyone!" said seventh-grader Eliana Ross, who played for Campbell's homeroom team.
Teachers had a positive experience, and first-year teacher Ms. Megan Agresta said, "After a long week of testing it was great to have the whole school together celebrating our successes and cheering each other on."
Photo Gallery Below by Bethany Vehar