Mrs. Julie Slisz joins the CFMS team
Mrs. Julie Slisz joined the CFMS team in August of 2022. She specializes in reading with small groups of kids.
Before she became a teacher, in college she realized that she wanted to be a reading interventionist. During college courses, she learned more about how the brain developed with reading and that was what piqued her interest. She earned her Master's Degree in Curriculum and Instruction from Kent State University.
Mrs. Julie Slisz previously taught kindergarten through fifth grade in Mayfield and was a supervisor of student teachers with Kent State until she came to Chagrin Falls Middle School. Working with different groups of students alongside other newer teachers has taught Julie that everyone has a different perspective on things and that not everyone learns at the same pace. 
"Everyone learns differently, and as teachers, we need to focus on students as individuals versus groups and what they need as individuals," Slisz said. 
Mrs. Julie Slisz connects well with her peers and her students. One staff member she connects the best with is Ms. Megan Agresta, who is a part of the CFMS athletic team and also has small math groups. My perspective on Mrs. Slisz teaching techniques is all positive, she approaches teaching very well and makes sure everyone is included. Ms. Agresta and Mrs. Slisz share a room together, "It has been an honor to be able to share a room with Mrs. Slisz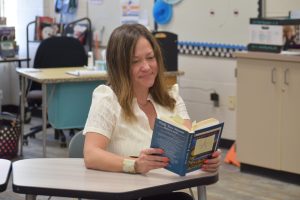 and see her work with her small group reading, she does some really innovative lessons with her groups and it's been amazing to learn from her, she's been a great mentor for me and my first year teaching," Agresta said.
Slisz has strong characteristics like being compassionate, caring, and thoughtful making her a perfect candidate for teaching with kids, talking to Slisz gives you a comfortable presence and she makes sure she has a one-on-one with each of her students, making them feel special. 
Outside of her job at CFMS, Mrs. Slisz loves to teach spin classes, loves to read, and loves driving her sons around everywhere they need to be.