Tiger Perk; More Than Just a Coffee Shop
Tiger Perk is one of many programs supported by Tiger Prep, a nonprofit that's recognized as a school support organization. Back in 2016, Tiger Prep board member Steve Thompson had the idea to create a functional job skills program, with a focus on helping students with special needs.
Two years later, this idea became a reality. Tiger Perk is a student-run coffee service available to Chagrin Falls Middle and High School students and staff members. The staff is composed of student volunteers, adult supervisors, and student and adult workers. Tiger Perk was designed to be an inclusive and engaging program. Not only does it teach students real-world business skills, but it has also created a community.
Tiger Perk is located in the high school cafeteria. Its menu is located on the Chagrin Falls Tiger Perk Website and consists of cold and hot drinks, smoothies, frappes, snacks, and bagels, which are a student favorite. Tiger Perk also has an online website where you can order and pick up at whatever time you choose to minimize the time students spend waiting for their orders. Along with being accessible for everyone to order, Tiger Perk is always accessible to work at. It's clear being able to get work experience in a low-pressure setting has made a significant impact on the students of C.F.M.S.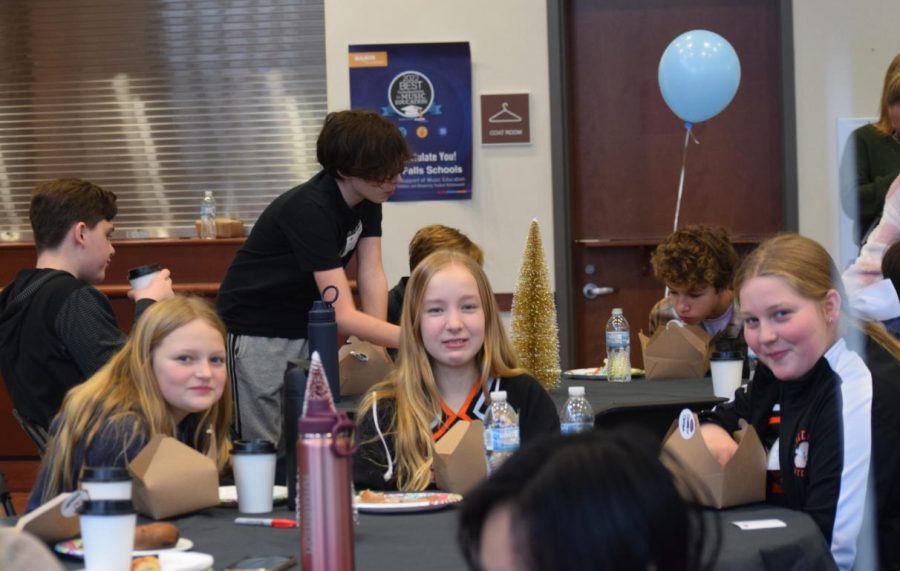 Seventh Grader Tiger Perk volunteer, seventh grader Eliana Ross said, "I like working at Tiger Perk because it gives me more knowledge for working at jobs when I'm older."
It is important for kids to work real-world jobs because it gives them an opportunity to use their skills to contribute to the community. Working at Tiger Perk allows students to explore what aspects of the job they like and don't like. In addition, it gives them customer service experience which can be applied to everyday life. Letting the students do hands-on work with the adult staff and their peers gives them a chance to connect with people they normally wouldn't connect with. Tiger Perk has created an inclusive environment that benefits the school in many ways.
Tiger Perk is also helpful for students who don't volunteer and are customers. It allows them to enjoy a nice treat or extra snack when needed and is a fun place to visit with friends when they need a break from schoolwork. The C.F.M.S even holds monthly challenges where the prizes are usually a Tiger Perk Gift Card so that everyone has a chance to visit.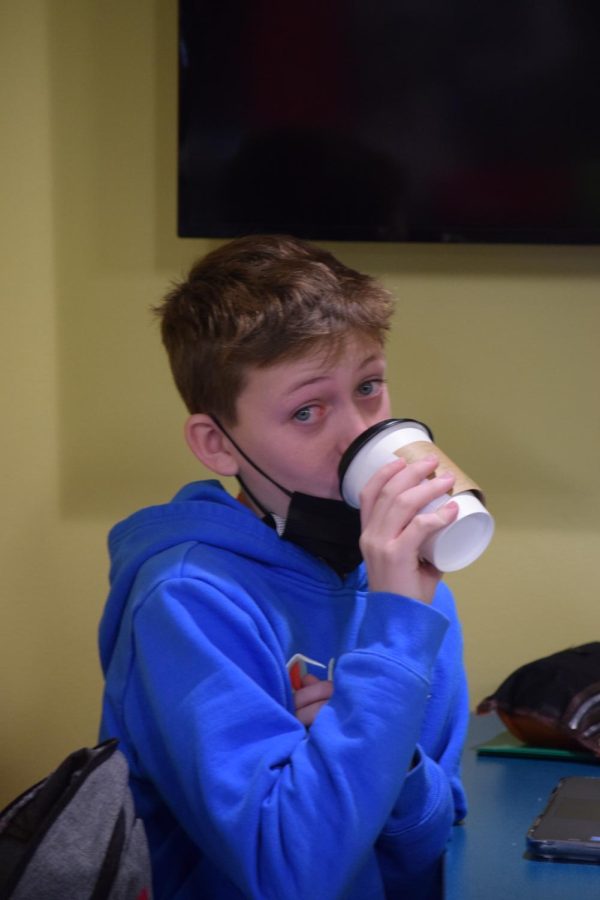 Eighth-grader Brigitte Edwards said, "I love going to Tiger Perk during my study hall because it is so fun to be able to do homework while enjoying a snack or drink."
Another Tiger Perk volunteer, seventh grader Peyton Pruce said, "I like working at Tiger Perks because I can help people enjoy themselves at school and it's also fun to work with my friends."
Tiger Perk offers various drinks with many flavor combinations, snacks, and an assortment of bagels. One thing the students love is being able to create their own drink mixtures by adding sauces to the drinks on the menu. Seventh grader Evan Moran, a frequent customer at Tiger Perk, orders an Iced Chai Latte with peppermint sauce, vanilla sauce, caramel sauce, caramel syrup, and whipped cream added to it.
Tiger Perk also offers seasonal drinks which encourage students to try new things and lets the workers experiment. Tiger Perk added new options to the menu for the winter season. They now offer candy canes and crushed candy canes for the winter months. Tiger Perk accepts credit cards and online payment apps such as Apple Pay.
Tiger Perk is without a doubt, a great option for students to learn things they wouldn't be taught in a classroom. It is a fun and enjoyable way to introduce Chagrin Falls students to some of the responsibilities of adulthood such as social skills, work environments, commitment, and customer service. All of the CFMS Tiger Perk volunteers interviewed only had positive things to say about their experience working at Tiger Perk. Working at Tiger Perks is a memorable experience where students learn many valuable lessons. The lessons students learn will stick with them throughout their adult lives and help them throughout life.