Chagrin's Spooktacular Halloween Dance
On October 29th, students of Chagrin Falls gathered in front of the middle school gym and entered the Halloween dance.
Upon entering, colored lights streamed through the air, casting shadows upon the faces of the CFMS students enjoying the night.  Clusters of friends walked around, talked, and simply hung out.
A DJ station in the back, the check in desk at the front, and the concession stands were all run by the members of the student council.  They stayed after school to set up and made the dance possible.
Clever, laughable, and eerie costumes were worn by the 7th and 8th grade students, and at approximately 8pm student council members announced the funniest and scariest costumes, as voted on by teachers.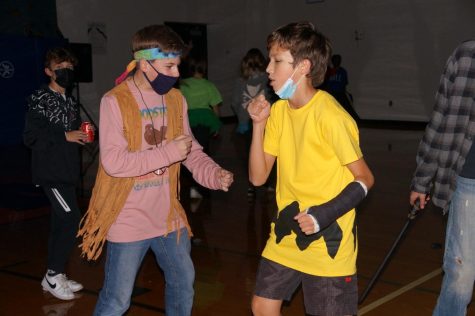 In 7th Grade, David Daniels won the prize for the funniest costume, wearing a large inflatable chicken.  Ivy Hunsaker won the scariest costume, coming to the dance as a witch.
Hailey Haddon won the funniest costume in the 8th grade, wearing a cosplay of the character Boardman from the anime Demon Slayer.  The winner of the scariest costume was Savannah Brent, who wore a medieval Viking costume.
Owen Stull won the best costume overall, as he wore a full suit with a pumpkin print pattern.
All in all, the seven-dollar entrance fee could be considered worth it.