8th graders raise over $2,000 for pediatric cancer research while playing kickball
The crowd erupted with joy as the bright red ball flew through the air. The sound and sight of a kickball game are quite common on any school yard. But this game at C.S Harris Stadium was something different.
On Wednesday October 13th, after a long day of PSAT testing, 8th graders stepped onto the field with their vibrant multicolored Kickin it for Cancer tshirts.
The two weeks prior, students had been fundraising and competing to see which homeroom could purchase the most shirts and raise the most donations for pediatric cancer research. In fact, in under only two weeks, the 8th grade was able to raise over $2,000 in research money.
But it all came down to this moment: the kickball game.
The team that won the most points in total from tshirts, to the game, to donations would take home the tall, gold, trophy. But that's not all they would take home. They would go home knowing that they had made a difference in the lives of children with cancer.
Jennah Hamdan, an 8th grader at Chagrin Falls Middle school said that the event "truly showcased the strength of our community," and that it was fulfilling to see how "we can all come together to have a fun yet meaningful event."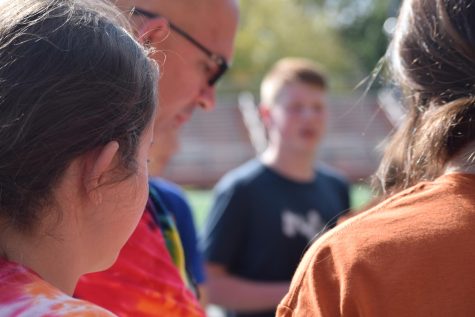 Kick it for Cancer began in 2008 when a student at the Chagrin Falls intermediate school named Quinn Clarke was in his second battle with cancer. That afternoon, Quinn told his parents that he wanted to have a kickball game to raise money for childhood cancer research.
Since that day, schools across the United States and the world have joined together to support Quinn and other kids battling cancer.
"I loved knowing that we were helping people while enjoying a fun and exciting game together," said Charlotte Clark, an 8th grader and member of Mrs. Aranavage's winning advisory class.
After the kickball game, students joined together in the PAC to celebrate their success and reflect on their work. They learned about the effect of childhood cancer research money by a fellow in pediatric oncology and more about the Kick it for Cancer Foundation.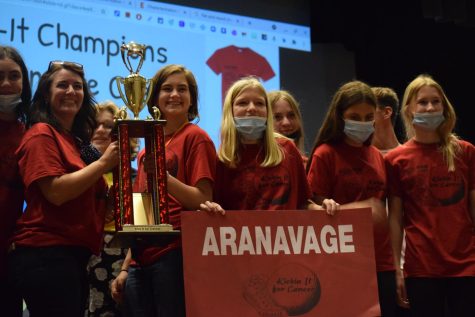 After kicking it, students have a better understanding of how different people can unite to make a difference, and they will continue to stand up for what they believe in.