No Shave November Activities Allowed Students to Make a Difference
No Shave November was a month-long event to raise money for the Leukemia and Lymphoma Society. The money that was collected has gone towards funding cancer research and directly to families who need help paying for treatments. Throughout the month of November, Chagrin Falls Middle School provided a number of fun events to get students involved with the cause and raise donations.
Some activities through the month that were available to help raise money are "stubble selfie" challenges, "pin the stache on the turkey," "name that celebrity stache," and the "we mustache you a question" challenge. To enter these events students paid a fee that went straight to the donation to the Leukemia and Lymphoma Society as a donation. 
Stubble selfie challenges were held every Monday in November. Student's homerooms paid five dollars to enter and then staged their photos. Those in the photos used fake mustaches or other props which were available from the Innovation Center. The homeroom with the funniest or most creative photo won a movie party.
Pin the mustache on the turkey was held on the Tuesdays of November. To participate, students paid one dollar and waited for their turn in the Innovation Center to play. No matter how well a student did, he or she got a piece of chocolate for trying their best.
Name that celebrity stache made students think about where they have seen a specific mustache every Wednesday. There were posters with celebrity mustaches on them, but with the rest of the celebrities' faces obscured. Students who wished to make a guess paid a dollar and headed to the Innovation center to observe the mustache posters before making their guess.
We mustache you a question is a challenge in which students had to guess how much candy corn was in a jar. This challenge occurred on Thursdays. Counting masters paid one dollar to enter and then the student whose guess was the closest to the real number won the entire jar. 
Another fun way to support this event was to buy mustache merch from the Innovation Lab. Items that were available for purchase included mustache masks for six dollars, mustache earrings for six dollars, and whisker Chromebook stickers for a dollar. For any budget, there was a way to contribute and get involved. 
Lila O'Brian, an 8th grade member of the Chagrin Falls Middle School Principal's Advisory Council (PAC), explained how the council chose the activities described above. She elaborated that the council started by brainstorming ideas that would be safe in the time of Covid-19. Their main worry was the passing of cash and coins between multiple persons. In order to keep the risk of fomite transmission low, they decided to have collection envelopes and boxes that could sit for three days before new hands touched the donation money. 
O'Brian further explained that PAC wanted to ensure that a high number of participants turned out to the event. They made sure this would happen by making every game interactive and fun for students. She hopes that this event "makes kids sit down and realize, or gain knowledge about what's going on."
In addition, the students who participated in games to raise money, teachers took part as well. Almost all the male teachers in the middle school chose to not shave their faces for the event. Those who took part in growing a beard or mustache were Mr. Brian Johnson, Mr. Geoff Brown, Mr. Todd Thombs, Mr. Mike Wujnovich, Mr. Paul Perrine, Mr. David Kimball, Mr. Ken McClintock, Mr. Nathan Bachofsky, and Mr. Kyle Patterson.
Students voted for which staff member's beard they thought was the best and added a contribution of their choice with their vote. The student who gave the largest contribution to each teacher got to throw a pie in his face before he shaved.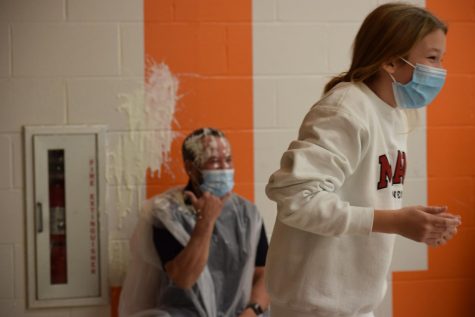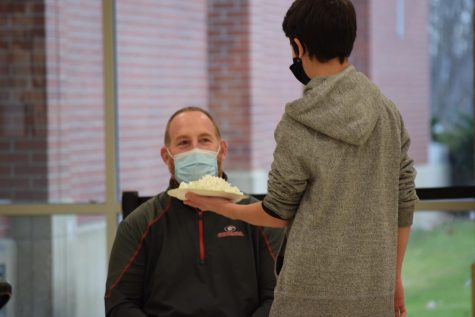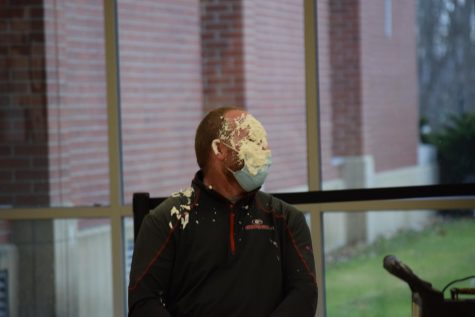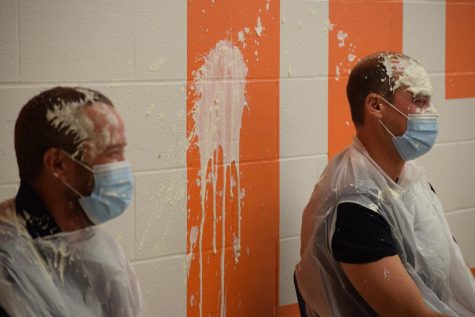 Mrs. Laila Discenza, the principal of Chagrin Falls Middle School, also explained how virtual academy students can participate. Google forms were provided for them on their Google Classroom to judge the different teachers' mustaches or beards and complete the other events. They were also able to donate money on Mondays during their supply pickup.
Adding to what Lilla O'Brian remarked, Discenza explained that they are "hoping with all of the activities, we will reach everyone with one thing; anything to put a smile on their face or make them laugh. We can do a lot together!"
Mrs. Meghan Bando, a staff member at Chagrin Falls Middle School who helped put the events together also added that "I hope the students and staff can get a little break from all the seriousness in the world right now and have some fun with the contests.  But most of all, everyone will come away with a deeper awareness of cancer and how important it is to contribute no matter what that might entail."
No Shave November was an important event for everyone in the middle school. Teachers had a chance to see how not shaving for a month affects their facial hair. While students got to play games to take their mind off the challenges of the world right now and have fun. All who engaged in the event supported a good cause in the Leukemia and Lymphoma Society and helped make a long-lasting difference.